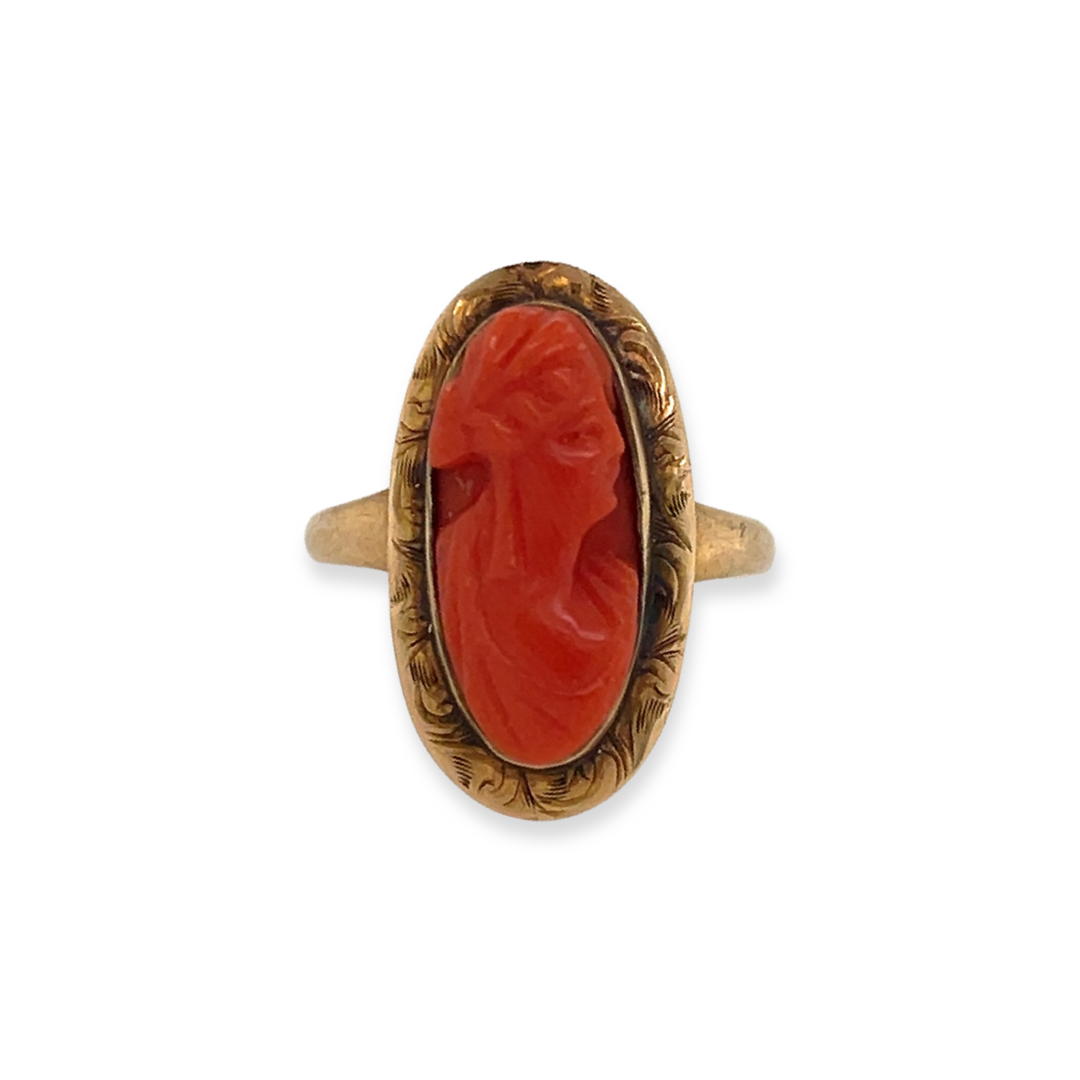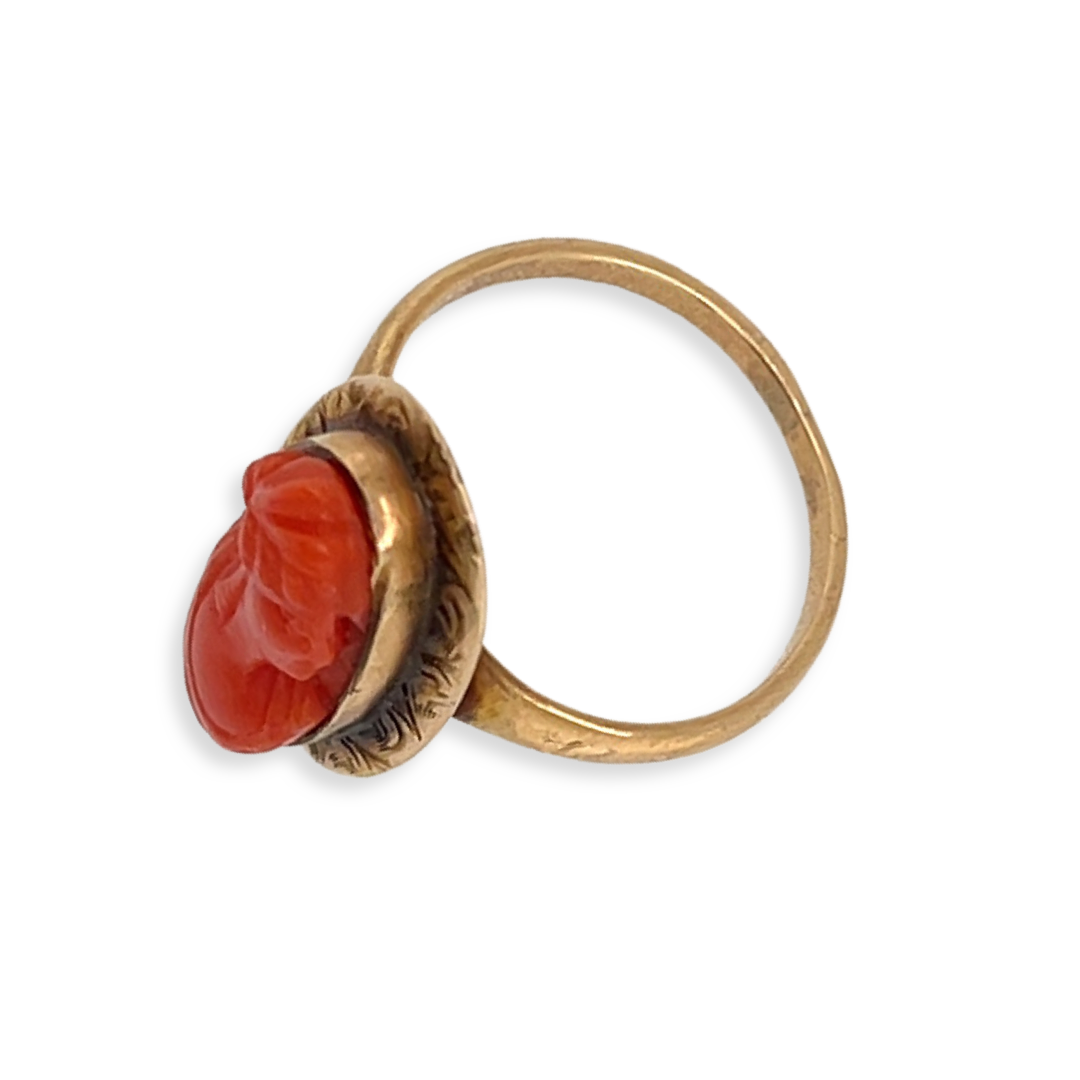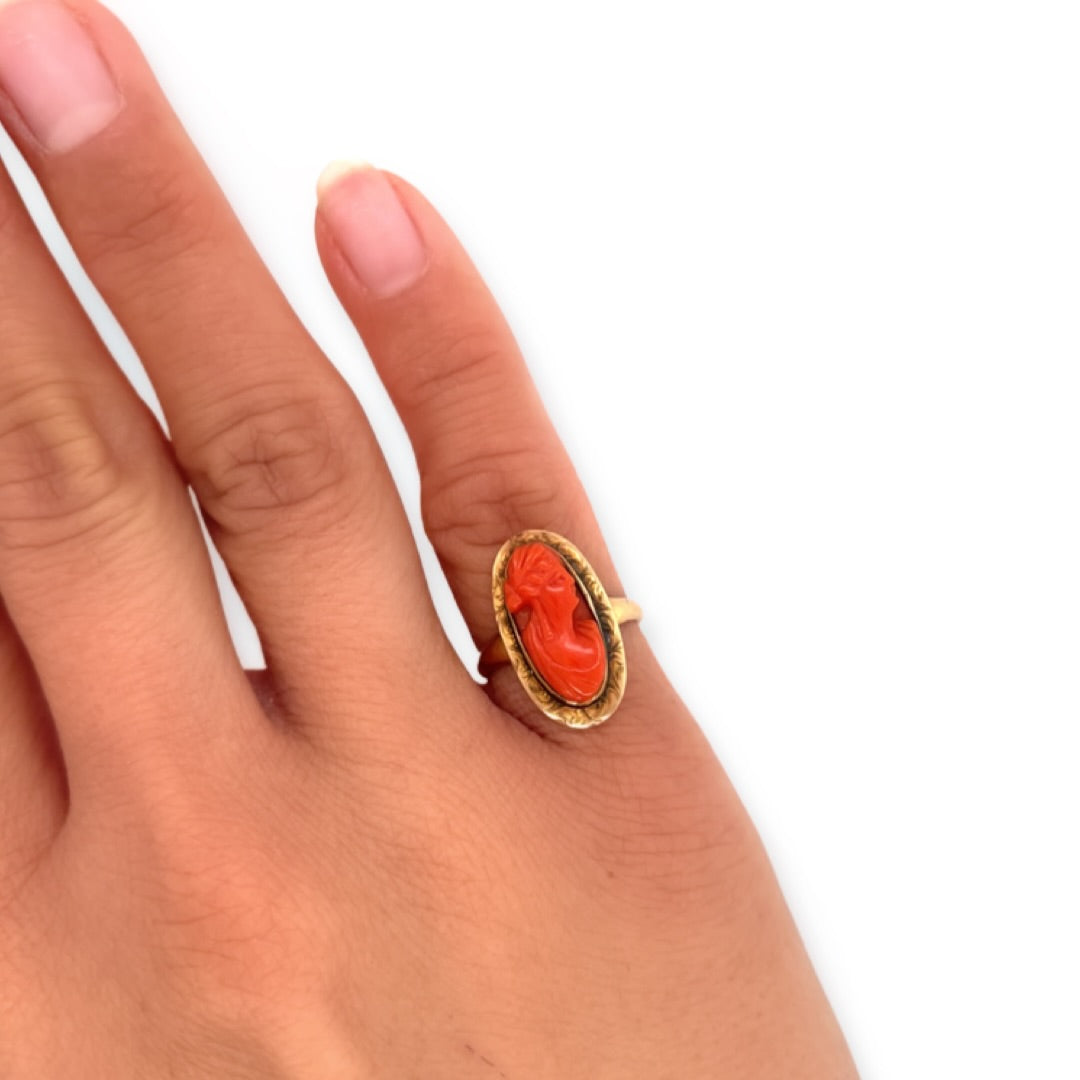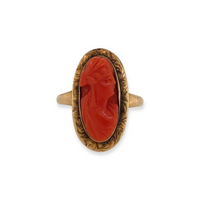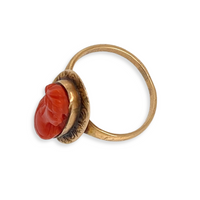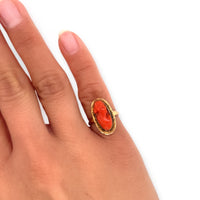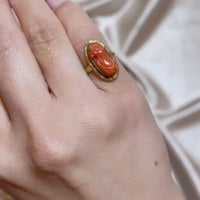 10k Hamilton Gold Antique Victorian Coral Woman Cameo Ring
ERA: Victorian, Antique 
MATERIALS: 10k yellow gold, coral
SIZE: 3.25
WEIGHT: 2.12 grams
CONDITION: Very good antique condition
HALLMARKS: Acid tests as 10k gold

𝘌𝘹𝘱𝘦𝘳𝘪𝘦𝘯𝘤𝘦 𝘵𝘩𝘦 𝘢𝘭𝘭𝘶𝘳𝘦 𝘰𝘧 𝘢 𝘣𝘦𝘢𝘶𝘵𝘪𝘧𝘶𝘭 𝘤𝘢𝘮𝘦𝘰 𝘧𝘦𝘢𝘵𝘶𝘳𝘪𝘯𝘨 𝘢 𝘭𝘰𝘷𝘦𝘭𝘺 𝘸𝘰𝘮𝘢𝘯 𝘤𝘢𝘳𝘷𝘦𝘥 𝘪𝘯 𝘷𝘪𝘣𝘳𝘢𝘯𝘵 𝘰𝘳𝘢𝘯𝘨𝘦 𝘤𝘰𝘳𝘢𝘭. 𝘛𝘩𝘪𝘴 𝘳𝘢𝘳𝘦 𝘢𝘯𝘥 𝘱𝘳𝘰𝘵𝘦𝘤𝘵𝘦𝘥 𝘤𝘰𝘳𝘢𝘭 𝘵𝘺𝘱𝘦 𝘮𝘢𝘬𝘦𝘴 𝘵𝘩𝘪𝘴 𝘱𝘪𝘦𝘤𝘦 𝘵𝘳𝘶𝘭𝘺 𝘴𝘤𝘢𝘳𝘤𝘦 𝘢𝘯𝘥 𝘴𝘰𝘶𝘨𝘩𝘵-𝘢𝘧𝘵𝘦𝘳. 𝘛𝘩𝘦 𝘤𝘢𝘮𝘦𝘰'𝘴 𝘦𝘹𝘤𝘦𝘭𝘭𝘦𝘯𝘵 𝘢𝘯𝘵𝘪𝘲𝘶𝘦 𝘤𝘰𝘯𝘥𝘪𝘵𝘪𝘰𝘯 𝘪𝘴 𝘦𝘯𝘩𝘢𝘯𝘤𝘦𝘥 𝘣𝘺 𝘢 𝘴𝘵𝘶𝘯𝘯𝘪𝘯𝘨 𝘳𝘦𝘱𝘰𝘶𝘴𝘴𝘦-𝘤𝘩𝘢𝘴𝘦𝘥 𝘣𝘦𝘻𝘦𝘭. 𝘞𝘩𝘪𝘭𝘦 𝘱𝘦𝘵𝘪𝘵𝘦 𝘪𝘯 𝘴𝘪𝘻𝘦, 𝘪𝘵 𝘮𝘢𝘬𝘦𝘴 𝘧𝘰𝘳 𝘢 𝘱𝘦𝘳𝘧𝘦𝘤𝘵 𝘱𝘪𝘯𝘬𝘺 𝘰𝘳 𝘮𝘪𝘥𝘪 𝘳𝘪𝘯𝘨. 𝘍𝘦𝘦𝘭 𝘧𝘳𝘦𝘦 𝘵𝘰 𝘩𝘢𝘷𝘦 𝘪𝘵 𝘳𝘦𝘴𝘪𝘻𝘦𝘥 𝘣𝘺 𝘺𝘰𝘶𝘳 𝘵𝘳𝘶𝘴𝘵𝘦𝘥 𝘫𝘦𝘸𝘦𝘭𝘦𝘳 𝘵𝘰 𝘧𝘪𝘵 𝘺𝘰𝘶𝘳 𝘱𝘳𝘦𝘧𝘦𝘳𝘦𝘯𝘤𝘦 𝘱𝘦𝘳𝘧𝘦𝘤𝘵𝘭𝘺. 𝘋𝘰𝘯'𝘵 𝘮𝘪𝘴𝘴 𝘵𝘩𝘦 𝘤𝘩𝘢𝘯𝘤𝘦 𝘵𝘰 𝘰𝘸𝘯 𝘵𝘩𝘪𝘴 𝘦𝘹𝘤𝘦𝘱𝘵𝘪𝘰𝘯𝘢𝘭 𝘢𝘯𝘥 𝘶𝘯𝘪𝘲𝘶𝘦 𝘵𝘳𝘦𝘢𝘴𝘶𝘳𝘦.

Please Note
Many of my items are Antique, Vintage, or Estate, and may show signs of previous wear. Please view the images as they form part of the description. All items are final sale and sold as is.